In the summer, the listed farm Kircherhof in the idyllic mountain village of San Leonardo near Bressanone is the perfect starting point for excursions into the alpine regions of Mount Plose. The local mountain of the old Episcopal town is surrounded by a large network of hiking and biking trails. In the spring, the apple blossom is in full swing in the valley, and the pastures shine in lush green. An apple blossom trail leads you through fragrant orchards, while the mountain peaks are still covered with snow. In summer, during your holidays in Bressanone/Plose you may experience a paraglider tandem jump and a bicycle ride on the Isarco Bike Path. Also, the nearby Dolomites invite you to a climbing tour in the Odle Group.eislergruppe ein.
Bathing fun in South Tyrol
Outdoor swimming pools and crystal clear mountain lakes
In summer, the mild climate on the southern side of the Alps is ideal for unlimited swimming fun. In Bressanone, the water world Aquarena awaits you – a sprawling park complex with swimming pools, water slides, children's pool and spa area. The well designed site offers young and old varied hours of fun during their holidays in Bressanone/Plose. Swimming in the open air is also possible in the outdoor pool in Chiusa and in the natural swimming pond in Luson. After around one hour by car, you have reached Lake Caldaro and Lake Monticolo, gorgeous mountain lakes – the water temperature in the summer reaches up to 24 degrees.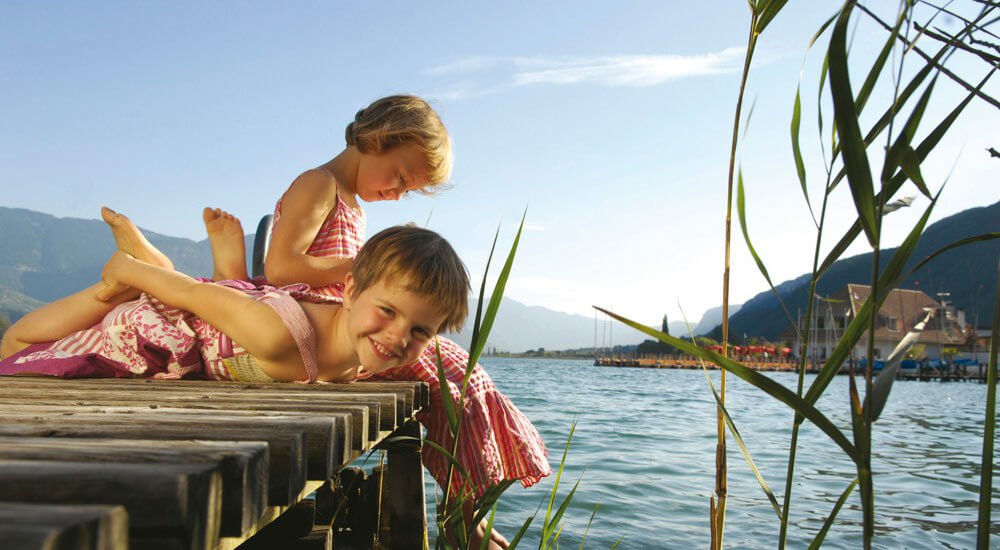 Stunning destinations
in the environs of San Leonardo
Only 10 minutes from the farm Kircherhof, there is the ancient Episcopal city of Bressanone with its enchanting medieval civic centre. During a stroll through the old town, you can head to the imposing cathedral and pay a visit to the Prince Bishop's Palace, or simply enjoy a tasty cappuccino in the narrow streets under the open sky. Another attractive destination during your vacation in Bressanone/Plose is the Monastery of Novacella with the Castel Sant'Angelo, the late Baroque collegiate church, the Gothic cloister and the miracle fountain. In the library, the largest monastery in South Tyrol displays valuable manuscripts from different centuries. The historic defence building Fortezza, the Monastery of Sabiona and the Castle Rodengo are also among the most popular destinations in the region.